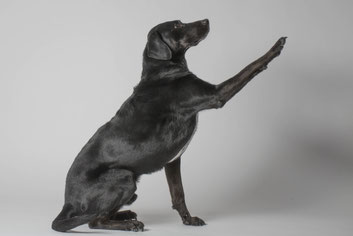 Starting  in   January / February 2019 I will make a "test run", this means that a good collar free of charge will be given to the animals wearing a non-suitable collar.
It will be interesting for me to know the reactions of my customers.  How many talks/argumentations will there be?  After this period of time I might just be saying: "This is the way we handle it = STANDARD UNIFORM."
In many hotels of the region there is the contemplative, comfortable off-season now, this is true for SCHNAUZERL too with less "hotel guests."  This gives us time to think about more perfect operating runs.  It may sound a bit arrogant but we need just a little more improvement.
But….. there is one point that has been a pesky(!) subject for decades (!) all the time(!): these are the non-appropriate collars of our hotel guests.  Well-fitting collars do not cost much (for example in my sons shop SCHNAUZERL-Shop starting at € 3,99) and yet – quite often this leads to "thrilling" discussions.

I ask myself in self-reflection: Did I get too sensitive  in the course of time?
Whatever….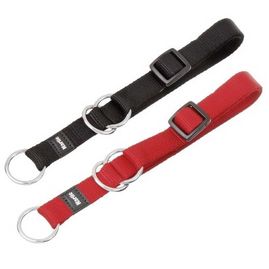 No dogs will be choked here!
Very often guests (about 60%) will come with collars made of leather, nylon or plastic.  They are strapped so tight that the animal would feel constant pressure around the neck.  This could lead to a change of character.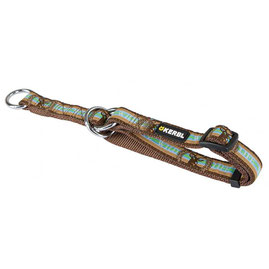 On the other hand = the opposite = the unsafe and much too wide collar (about 30% !) hangs so loose that the dog will be without it when stepping back or shaking his head, then it is gone.  The unstable clasp is another subject.
"AS WIDE AS POSSIBLE -  AS TIGHT AS NEEDED" sounds better.  For my own dog (when not on a leash) my complete hand fits in between.  When I lead dogs on the leash, the collar will pull together that he cannot slip out but cannot be choked either.
Why are there no harnesses in the animal boarding?  Danger of injuring!!! *
Why are there no chains in the animal boarding?  Danger of injuring!!! *
Why no choking collars without stop?   Oh my goodness!!! *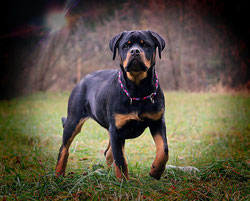 Why must a collar be worn in the animal boarding house  at all?  Because we alo have to lead  the dog on the leash sometimes  (and it may only be necessary to escort upon arrival in the group or upon pick-up) and because identification by name is obligatory in the house. 
Dominant – without discussion – monarchistic.


Following is an example to understand the necessity of wearing  the name badge: 
We had "Full House" and FOUR black Labrador dogs belonging to different owners were here visiting.  They got along marvelously and they were kept together with two  Golden Retrievers in a pack.   In the main season we all help together in the animal area and there were three different people taking care of the guests.  The friendly-minded labradors had so much fun together "best Retriever Party".  It was also so much joy and fun for us to watch them.  But the black labradors looked so much alike that we had to use our chip reader consulting our files to see who is  WHO  (one guest got some special food twice daily).  While leafing through our files the "chip-read" dog would change his whereabouts which led to some confusion.
Just imagine this lively situation!
We do not have to search in written files anymore when the person taking care calls the animal.  I have once written in a blog "BELLO RUNS AWAY" why it makes sense also for the animal owner to have a badge.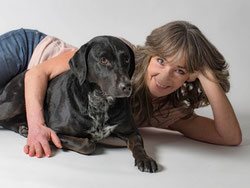 My tendency is
 in opposite to my tolerant nature
to determine
dominantly
without discussion
 monarchistically
Collars with traction stop are obligatory !!!
THIS IS THE WAY IT IS !
*: I could give some examples of my experience when starting this business,
    but this would be a much longer story.

Update Jan.4, 2019:  I have slept two nights over my decision and I have come to the conclusion: I will make a "test run" in January/February 2019.  Animals wearing a non-suitable collar (those are about 90%) will get a good collar free of charge.  I will wait for the argumentations  of my customers and I might just say: "THIS IS THE WAY WE HANDLE IT = STANDARD UNIFORM."  The fact is:  I do not want to work with unsuitable collars anymore = something else needs to be worn.

Update May 15, 2019: My smart, tolerant and animal-loving customers have wonderfully accepted  my decision = this is the way it will stay  = the first collar is free of charge.
Update October 31, 2021:  Since the collars ran out and these were specially made in large quantities, EUR 5.00 per collar will have to be charged in the future. With normal collars, the collar can remain - if it is missing too far, the SCHNAUZERL tries to convince the dog owner of the "uniform".